Getting you thru your work hustle from 10 a to 3 p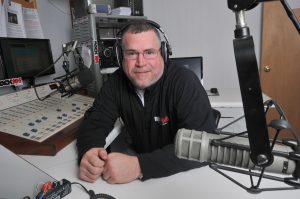 HOMETOWN: Moved around as a kid (NAVY brat) but call Charleston home
HOBBIES/SPORTS: Love baseball (Cubs) and Football (WVU, Cleveland Browns) and love to fish
BANDS/ARTISTS I'VE MET:  I have been blessed to meet quite a few bands and artists since starting my career.  My biggest one was meeting KISS.  I have met Molly Hatchet, Halestorm, Shinedown (really great guys), Aaron Lewis, Bret Michaels, and some from the country world like Trick Pony, Shooter Jennings, and Tracy Lawrence.  Can't forget about hanging with Donnie Baker all night.
FAVORITE FOOD:  Wings
FAVORITE ARTISTS: I like all kinds of music, but the first band I had a record from was KISS.  I also like Chris Stapleton and Jamey Johnson and the bands that fall in what I call the new outlaws in country.  George Strait is also one of my favorite artist on the country side of life.
COCKTAIL: Miller Lite and Whiskey
VACATION SPOT: Camping and anywhere I can fish
MOVIES/TV: Like action and war movies
FAMILY:  Where do I start, the wife and I have raised 6 kids between us and now have started the 2.0 family.  We have been fostering for the last two years and have adopted two of them and is in the process of adopting two more.  I have two grand children and one on the way.
BRUSH WITH GREATNESS THAT DIDN'T GO WELL: I really can't think of one except for maybe when I was little and living in Washington D.C and we was waiting on President Reagan to come by after one of his outings.  He came by but did not wave which was disappointing, kind of hard to when you was just shot.