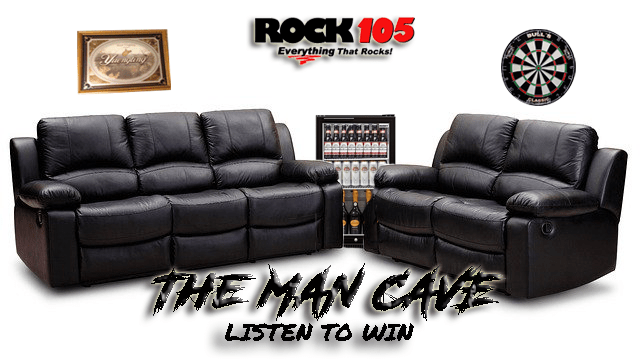 Win a Man Cave full of awesome prizes! Listen to Rock 105 to get entered!
Recliner from Pugh Furniture
TV from Big Sandy Superstores
Mini Fridge
At-Home Workout Kit Courtesy of Fox's new show "Ultimate Tag"
Harley Davidson Dart Board from American Billiards Showroom
$50 Gift Certificate from Honey Baked Ham
Yuengling Branded Mirror
Marshall University Branded Merchandise
Guinness Retro Wall Art
Shiner Bock Wall Art
_________________________________________________________
Contest runs 6/1/20-6/19/20. Caller ten (10) to either 727-WKLC (9552)  or 525-WKLC (9552) when prompted by recorded "Cue To Call"  will qualify to win grand prize. Three (3) qualifiers will be accepted weekdays between 6:00 am-7:00 pm ("Cue To Call" will play at various times throughout the day) for a total of forty-five (45) qualifiers with grand prize winner chosen at random and contacted on or about week of 6/22/20. Winner is responsible for all state and federal taxes associated with grand prize. Must be at least 18 to enter, one entry per person per household, no purchase necessary. Additionally, all qualifiers will receive a consolation prize of a Rock 105 tee shirt. Shirt size requests are not guaranteed and based on availability. Stations general contest rules apply. Prizes subject to change. A.R.V. (Approximate Retail Value) of prizes (known collectively as grand prize) subject to change: Recliner $600.00, TV $799.00, Dart Board $200.00, Fox TV At-Home Workout Kit $250.00, Mini Fridge $129.00, Yuengling Mirror $50.00, Marshall University Branded Merchandise $50.00, Honey Baked Ham Gift Certificate $50.00, Guinness Retro Wall Art $30.00, Shiner Bock Wall Art $30.00.  Total A.R.V of grand prize is $2188.00.