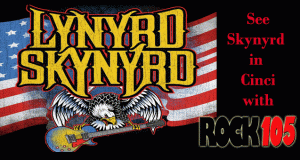 Lynyrd Skynyrd is heading out on their Farewell Tour, and Rock 105 wants to make sure you see them one last time!
Starting Monday, (5/14) Listen for the Skynyrd Sounder…any time you hear it, be caller #10 and you will be Qualified for a chance to get on the Capital Coach Party Bus to see them in Cincinnati on August 17th!
Then, be listening each Friday at 4:30p as Chili Walker will pull a name from all those that are Qualified…that person wins a pair of tickets to the show, and round trip shuttle service on the Capital Coach Party Bus!!!
Once you are qualified, you are in the running each week for a chance to see Lynyrd Skynyrd with Rock 105!
Good Luck!