February 10th-11th, 2018
The Bracketing Party for the Snowball Softball Tournament will be held on Thursday February 8th , 2018 from 6:00 p.m. to 8:00 p.m. at: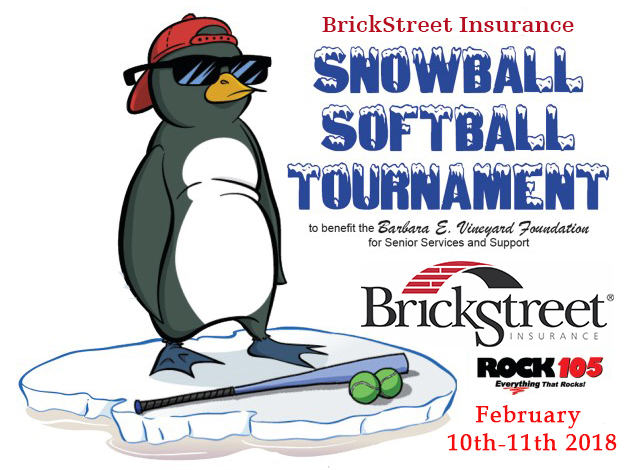 Snowball Softball Tournament is held each year in Charleston. It attracts teams from all over the states as well as from Kentucky and Ohio. They have a weekend of fun for a great cause, The Barbara Vineyard Foundation.
This Foundation was formed in 2000 after Barbara's untimely death. She was a leader in the acknowledgement of senior needs. A foundation in her honor has provided over $100,000 to organizations and programs dedicated to supporting senior citizens.
Snowball Softball is the ONLY fund raising the foundation supports during the year. The entering fee for each team is $150 and money is also donated from the tournaments multiple sponsors. They usually have 30-40 teams enjoying the weekend event, rain, snow or shine, the ideal weather of course would be snow! It is played as any other slow-pitch tournament. This years tournament will be held February 8th-9th with the bracketing party on February 6th. It provides FUN and well as FUNDS for the Vineyard foundation which in turn is used to benefit so many of our area senior citizens.