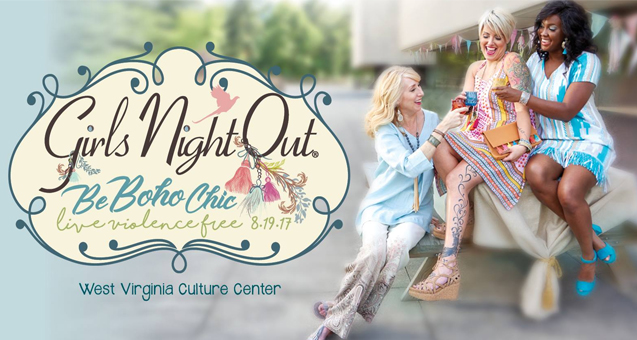 *Click for More Info*
Saturday | August 19, 2017 | 6-10pm
Location:
West Virginia Culture Center
1900 Kanawha Blvd E • Charleston, WV 25305
Tickets:
$125 per person through August 1
$150 effective August 2 online, postmarked and at the door
Attire:
"Boho Chic" describes a style that includes flowy clothing, vintage and multicultural accessories, and natural-looking hair and makeup.
TIPS – IF THIS VIBE IS NEW TO YOU…
• Choose clothing in a variety of tones and fabrics.
• Say yes to lace, crochet and other embellishments.
• Experiment with fun patterns.
• Think comfort.
• Combine fitted and flowy clothes.
• Wear shoes in natural shades and fabrics.
• Accessorizing is key
• Go for a natural look with your hair.
• Remember the MOST IMPORTANT THING we just want your smiling face there! … so don't sweat it! 🙂
​​
Mailed or Pick Up: When purchasing a 2017 Girls Night Out ticket(s) before August 9th you will receive by mail. After August 9th one can pick up at check-in the evening of event. Make sure you have your ticket filled out to be eligible for a door prize.
Your purchase includes food, drinks, entertainment for
the evening, and the opportunity to bid on amazing silent
auction items.
• Must be 21 to attend
​
Thank you for joining us for Girls Night Out 2017 and for your support of our mission – eliminating domestic violence in our community. Following is important information about the event.
EVENT REGISTRATION
All guests must have a ticket for entry to event.
Check in from 6 to 8 pm.
Please fill out the back of your ticket in advance so that it can be entered into our door prize drawing.
Tickets will be available for purchase by credit, debit, check or cash at the event.
PARKING
Parking is plentiful this year!
You MAY park in the following areas:
All of the flat lots behind the Capitol, next to the Culture Center,
and near the Veteran's Memorial, the parking garage, along Kanawha Boulevard and Greenbrier Street, and Laidley Field.
OVERFLOW PARKING – if necessary:
Gravel lots at the end of California Avenue on the
east side of the Capitol.
You MAY NOT park in the following areas:
Governor's Drive, the road between the Governor's Mansion and the Culture Center, has a 24-hour guard at the gate and is not available for event parking.
The reserved spaces for food vendors.
ATTENTION
Alcohol on the lawn is strictly forbidden. Please keep your alcoholic drinks on Culture Center premises – on the plaza or inside.
Last call is at 9:30 pm.